Retailers are undergoing a fierce competition to stay ahead of competitors and create a meaningful and long-lasting relationship with the consumers. In repeat-purchase environment, shoppers have the power over product selection, due to the existence of plenty of brand options, price-variety, offline or online shopping with compelling customer experience.
Brand loyalty is critical to be on top of consumer's mind and the key to the success during the customer journey. 3 out of 4 consumers are willing to consider buying products from new brands. This fact puts a heavy pressure on marketers to keep creating positive emotional and personalized experiences, to drive customer satisfaction and customer retention.
"Personalization is not a trend. It is a marketing tsunami", mentioned by Larry Light, a veteran marketer and professor at Harvard Business School.
Personalized – but at the same time measurable
Retailers that implement direct-to-consumer marketing campaigns, leverage the advantage to acquire measurable results, along with valuable customer insights. It is necessary for marketers to collect and analyze master data to better understand and delight customers who have become more demanding than ever before. Thus, the key factor behind an effective marketing will be the creative and strategic use of customer insights.
As a result, the opportunity that derives from the utilization of customer data collection, becomes the foundation for acknowledging byer behavior. Therefore, the brands interact with the consumers in real-time, having the privilege to adjust improvements in the campaigns, whenever it is necessary. Most noteworthy, following personalized strategy, customers perceive that the brand listens to their needs, by delivering unique experiences.
Bring the customer at the center of the strategy. In today's unified commerce with the digital transformation, the marketers need to obtain a holistic view of the customer through, advanced technology tools that will humanized the shopping experience. Clientelling solutions can provide a consistent brand experience to the customer, based on transaction and behavioral history. For example, the sales associate is equipped with a mobile or tablet device, can access the consumer profile and provide relevant and valuable information.
Bridge digital and in-store experience
Technology helps retailers to enhance the customer journey and create consistent experiences, while consumers navigate through the decision journey from consideration to purchase.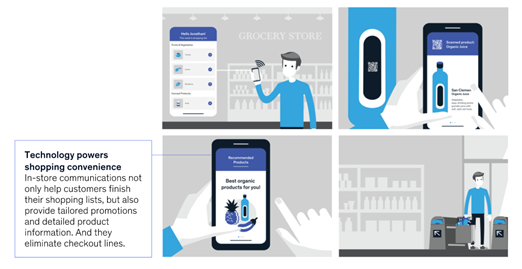 Source : McKinsey & Company
AI innovations within the physical store, such as apps, digital signs, beacons, interactive windows are critical for accelerating and mastering the in-store experience. Therefore, digitalization of in-store combines the ultimate consumer's experience with the advantages of the targeted and personalized promotions. Targeted campaigns, such as personalized SMS for product discounts and links that lead to the full promotion of the brand's products can affect favorably the customer navigation inside the physical store.
The outcome of customer-centric loyalty strategies is the improvement of average basket up to 15%, according to Qivos' case studies results.