The question to the consumer, after the purchase, could be 'Paper or digital?". We may live in the digital age; however, paper receipt is still the most common method instead of electronic receipt.
Electronic receipts could be sent via email and are gaining momentum, with more companies to follow this digital method in the near future. From the paper receipts that environmentally wasteful to e-receipt positive environmental fingerprint, from the coronavirus outbreak, global consumers are pushing boundaries of what retail experience should be. A quarter of people state that they would prefer a digital receipt over a paper receipt.
However, how do we know that consumers will adopt positive behavior towards e-receipt? Projecting from the relative trends, we can expect the world to follow more digital practices. Issuing e-receipts to shoppers is becoming more common in the Retail world. An increasing number of retailers, at the point of purchase, is offering customers the option of receiving an e-receipt. To receive an e-receipt, a customer must provide a valid email address to the retailer.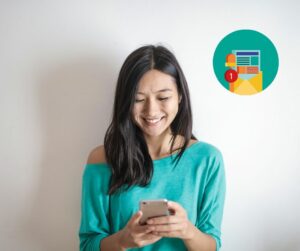 GDPR concern in data collection
Mass customer data are collected at the point of sale with e-receipt method, having great value for the companies and marketing executives. Data is gold. But, how can we safely invest with compliance to GDPR guidelines on customer data?
The Data Protection Commission (DPC) previously carried out a series of audits to assess how companies gather and process personal data while providing electronic receipts ('e-receipts') to customers. In several cases, email addresses gathered to issue e-receipts were subsequently used by retailers to issue marketing material. If an email address has been collected to send the e-receipt, and the retailer wants to use that address for sending marketing emails, the DPC is advising retailers that the customer should not subsequently receive marketing emails unless the retailer has informed the customer about this and has given the customer an opportunity to opt-out of receiving marketing emails, according to Data Protection Commission. Retailers wishing to send marketing emails in this way must comply with the rules as set out in Regulation 13(11) of the ePrivacy Regulations (S.I. No. 336/2011) ('the ePrivacy Regulations').
The GDPR guidelines have strong impact on businesses in several ways. Privacy and data protection will be part of a company's core requirements leading the way in data collection and storage. All companies should properly prepare and comply with the new policies and it is important to note that these rules apply to both data controllers and processors. Consequently, it is preferred to be implemented by third parties, instead of in-house practices, to make sure that data collection and how they will be leveraged will be under GDPR compliance.
E-receipts with the benefit of email marketing
When it comes to attracting new customers – email works almost 40 times better than Facebook and Twitter combined", according to McKinsey's iConsumer survey, published in Digital Trends.
Email reduces delays in communication and is cheaper and faster. However, the most significant benefit of email campaigns is that they provide full statistical analysis of open rates, click rates, unique opens, time of the day etc. By tracking every single click, you will know what your customer likes, what link he visited, and the image that was most compelling to your reader's eyes. Thus, next time you shall be able to improve the open rate or click rate of your newsletter.
Ad promotional ideas for email marketing
To maximize the potential of digital receipts, email campaigns can become less complex with automation technology. Within minutes you can create powerful email campaigns to inform your members about discounts, key promotions, special offers, new products and launches to drive engagement and therefore more loyal conversions. The email campaign can be personalized with targeted messages, that will lead to customer retention. A tip to follow is to include dynamic, customer-centric marketing content and call to action in the electronic receipts, via email.
Reach us out today to discuss with our customer loyalty experts, whether you have a support question, or a business inquiry. Click here to contact us!