Marketers seem concerned with creating customer loyalty between the brand and the famed generation Z. To effectively target this generation, consumers that were born in the late 1990s and early 2000s, business executives need to reconsider their approach towards marketing mechanisms and better understand the connection between the buying patterns and the customer profile.
Are the Gen Zers loyal to the brands?
1 out of 2 Gen Zers, between 19-to-21 years old, state that they have a strong connection with brand, according to IBM report conducted in collaboration with National Retail Federation (NRF), that took into examination a sample of 15,600 correspondents.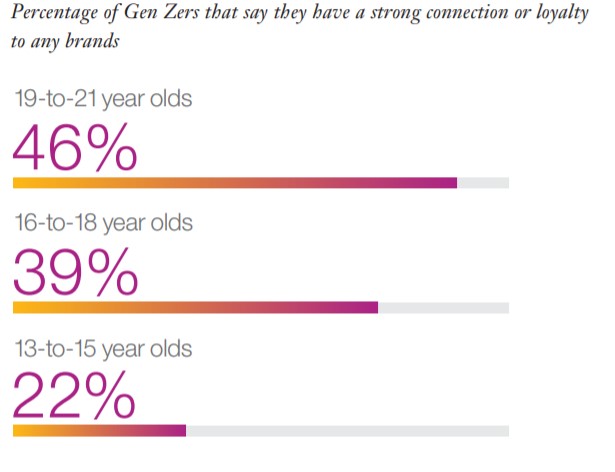 Source: "Gen Z brand relationships" Report
Consequently, breaking down the myth that loyalty is not a key factor behind repetitive purchase of same-brand, it is time to analyze the customer journey expectations of Gen Zers, in order to switch them from consumers to loyal customers.
Key Findings
Customer loyalty is continuously evolving, as well as the new generation of consumers and their expectations from the brands, which are beyond than just points and rewards. The loyalty of Generation Z is more about how they interact with the brand and the authentic experience, either in the digital world or in physical store and less the physical attributes of the product. The fast-evolving retail environment and the demands of Gen Zers lead to the creation of a customer experience, that will influence them and build long-lasting relationship between the brand and the shoppers by actively engaging them. The key is to develop loyalty marketing strategies that will appeal to Gen Zers' hearts and provoke positive emotional bonding with the brand, that are ready to share their experience with their social friends. To reach Gen Zers on their networks, the brands need to give a beneficial reason to them, such as rewards or points from purchases. Then, the Gen Zers are ready to advocate for their preferred products or service and spread the message, by creating their own content, to their channels.
At the same time, 54% of Gen Zers, according to IBM report, "want to have control over how brands contact them". Thus, it is important for a loyalty program to be compliant with GDPR regulations and enhance the perception of transparency of the brand.
Moreover, a report by PwC stated that 81 percent of Gen Z respondents prefer to shop in stores, as a result marketer should capture this shopping preferences that matter to this generation group and meet their high in-store experience expectations.
Below, a seamless combination of online and offline experience to win the expectations of Gen Z: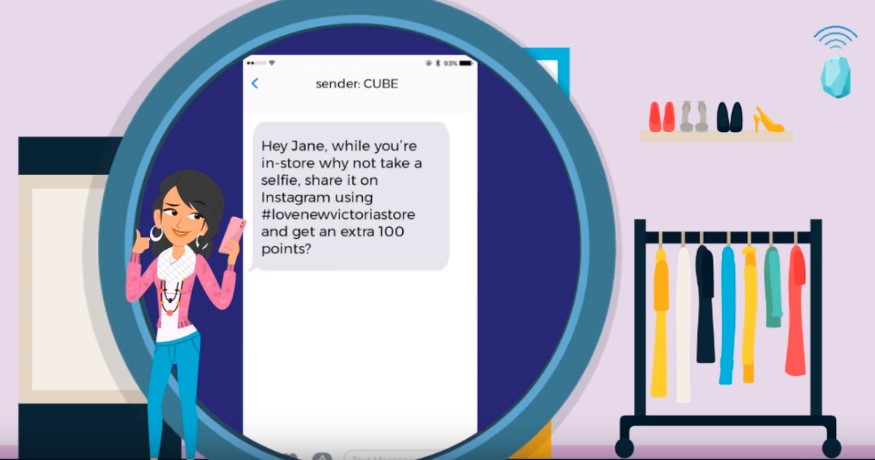 Need to be valued as unique personalities
Gen Zers anticipate being reached out by the brands in their communication channels, such as Viber, or SMS and social media accounts, with personalized content. Marketing campaigns that tend to be designed for homogenous group of consumers, with same buying attributes, shopping preferences and behavioral characteristics, are more likely to fail to create loyalty between brand and Gen Zers.
For instance, personalized discounts or offers that are relevant to them, are more likely to attract their attention, in contrast of generic messaging that will not live up the expectations of Gen Zers. Therefore, it is necessary for the businesses to develop qualitative customer data base that will enable the marketers to better understand the consumers and to create effective content, at the right time and for the relevant product or service.
The challenge for marketers is to identify the Generation Z' patterns towards the brand to create high level of engagement between the consumers (Gen Zers) and the product.