Todays' rapidly evolving technology landscape helps mobile expectations grow even more, forcing marketers to focus more on mobile-first strategies. But marketers falsely think that launching applications and responsive mobile websites is enough to check the box on mobile and can move on to incorporating new technologies such as virtual reality (VR), augmented reality (AR) etc. These emerging trends are not going to replace mobiles anytime soon and therefore mobile should continue to be at the forefront of marketers' minds. Nowadays, as consumers are always connected, smartphones are a big opportunity for brands to reach and connect with them on the most personal devices they own.
Mobile transforms customer experience
Thinking mobile as a standalone channel to approach customers is wrong. Brands should expand their mobile vision beyond the device, and consider finding ways to deliver a personalized shopping experience in every channel during every phase of the consumers' journey. Mobile transforms the entire customer experience and enables businesses to become more customer-centric.
Only 23% of B2B marketers claim to have a customer-centric — versus a channel- or product-centric — organizational structure.
Source: Forrester's Q1 2016 Digital Experience Delivery Online Survey.
Smartphones offer a unique opportunity to marketers to completely change the paradigm of customer/merchant interaction. By investing in marketing automation, marketers can shorten the distance between what customers want and what they actually get, offering a personalized experience, exactly when they expect it. Delivering tailored campaigns and messages to consumers across all channels helps meet their demands and build a meaningful connection with them. But in order to win your customers' wallet, you have to win their heart first. Find here some killer tips to help you win the battle of customer loyalty in mobile moments.
Transform connected experiences to loyal connections with your customers
Building relationships with your target audience on their smartphones where they are always connected, is what you should be looking for. Of course, this is not a simple thing as other brands are struggling for your customer's attention and wallet too. Consider investing in a mobile loyalty program that will not only help you successfully reach your customers on their devices but also win them in their micro-moments. Many retailers have already invested in mobile loyalty programs or have "mobile-enabled" their traditional card-based loyalty program.
QIVOS has designed and developed numerous mobile loyalty solutions worldwide, such as FF Group Exclusive that turned loyalty experience to mobile micro-moments creating personalized communication with each single member.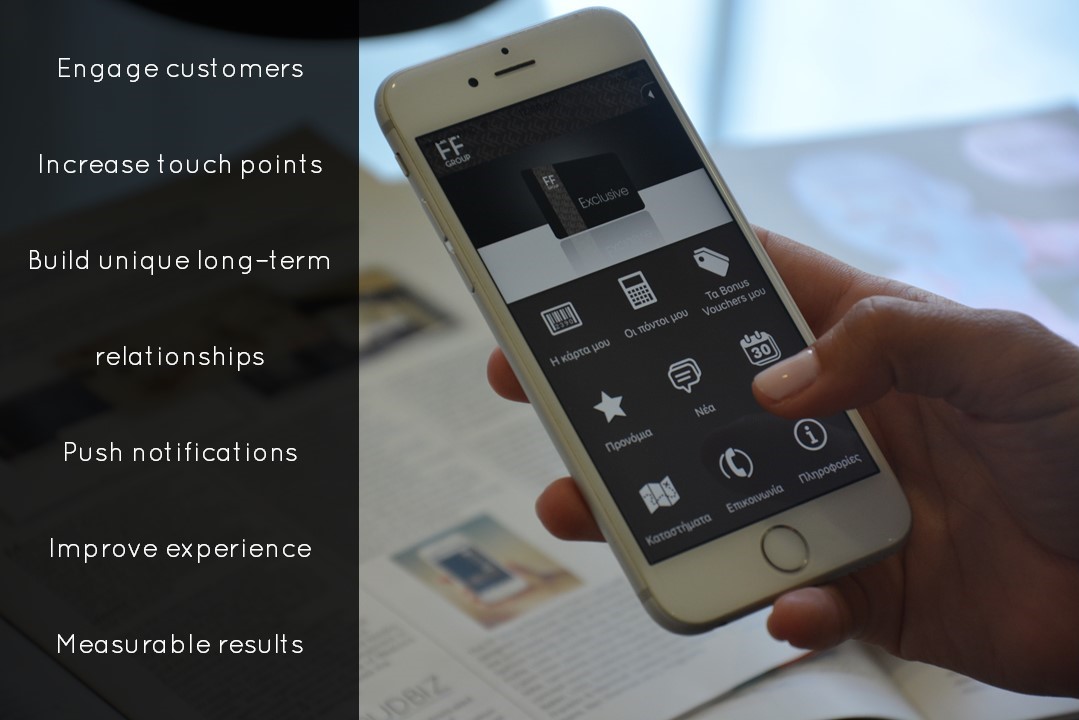 A successful mobile loyalty program requires a strategy that describes with clarity and detail its specifications, requirements and processes. A loyalty mobile program should offer consumers a variety of choices, convenience and control while still being easy to operate.
Whether your company is designing a new mobile loyalty program, refreshing an old one, or evaluating a current one, QIVOS has the know-how to help you build a loyalty strategy that will accelerate profits and build customer loyalty. Find here everything around CRM & Loyalty Strategy solution.