Today brands are struggling to attract more customers and keep them loyal. Most companies fail to address the complexities of the customer journey, as their retention strategies are not customer-centric and often lack a holistic view. Understanding your customers and especially the customer lifecycle is the key to building strong and lasting connections with your audience.
What is the customer lifecycle?
The customer lifecycle is usually described as a way that companies use to manage customer relationships. More specific, it is the view of the different stages that customers pass through in the course of an ongoing relationship with a company. Simply put, it is the customers' path-to-purchase and it involves various stages.
The stages of customer lifecycle
The customer lifecycle consists of six relationship stages: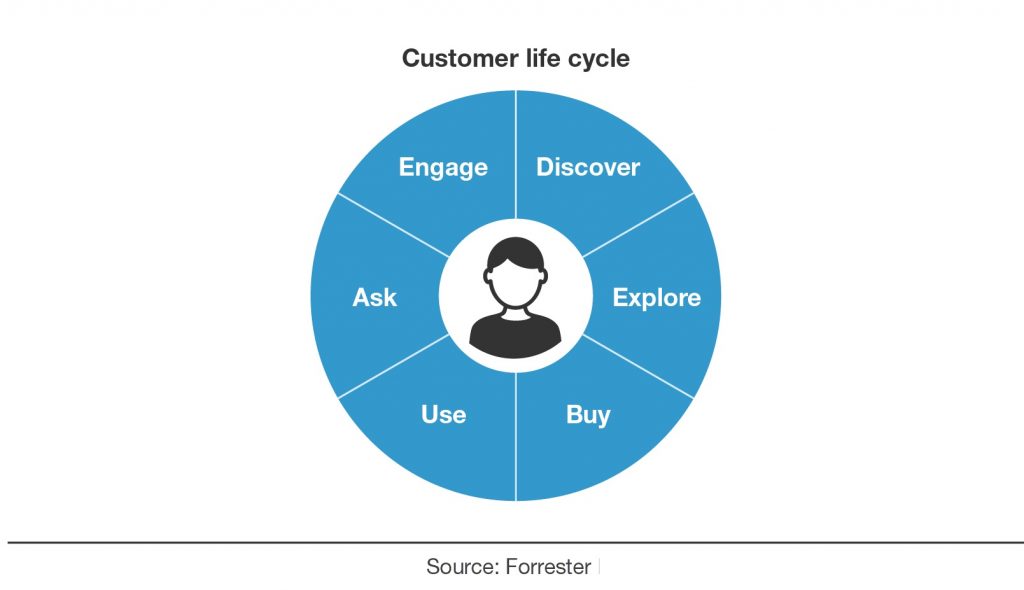 Discover: The stage where customers want to discover the product or service to fulfill a fundamental need.
Explore: In this phase, people are searching more actively; they visit an e-shop, read product reviews and information or go in-store to check the products.According to Forrester, 29% of US online adults use their mobile to check for pricing, product information, or other customers' reviews while they are in a physical store.
Related article: How to combine online and offline customer experiences

Buy: The "buy" stage is when the first purchase is made and includes both the actual price and the consumer's entire experience with the sales channel. This is where brands need to ensure the customer satisfaction and get feedback from the transaction process.
Use: This is the phase where the customer starts using the product or service. Although it depends on the product, the outcomes of this step are the customers' impressions about the product or the service. Customers share their experiences, so make sure you get valuable insights for them, especially via social media channels. Use this data to improve your product and services.
Ask: Customer interactions in this phase are crucial for your business as they reach your brand in order to get assistance or support. Make sure you have a quick and easy process at this stage to ensure that you deliver a seamless customer service.
Engage: If you manage to keep customers happy, they probably come back to you. By keeping them engaged with your brand and offering unique incentives, you will be able to make them loyal to you.Moreover, if they are truly satisfied, they will recommend your product or services (advocacy) to their family and friends, leading to new customers for your business.
Consistency matters
Customer retention is the goal during this ongoing process of the customer lifecycle, and for your brand to succeed it, you need to stay consistent across all touchpoints. Remember that in today's unified commerce, it is important to retain a consistent and relevant messaging through all channels. Consistency not only builds but also maintains trust, meaning more loyal customers.
The customer lifecycle is really important for brands and it involves examining the entire customer journey in a new, integrated way. To effectively manage the customer journey, you need not only to understand each stage of the customer lifecycle but also add value.