There has been a growing interest in focusing on the consumer experience. Retailers notice that consumers are becoming more demanding, and they are expecting comfort and immediate satisfaction. Consumers are looking for a personalized experience that helps in building brand loyalty. In response to this trend, marketers focus on personalization and providing the right experience at the right time.
The coronavirus crisis brings up one solid truth that physical stores are irreplaceable. Although, the physical stores can not continue by keeping the same traditional structure.
Physical stores are at the center of attention. Considering that, online players such as Amazon and Alibaba are opening physical stores to provide the full experience that consumers are accustomed to online. These companies maintain the same philosophy of data collection in their physical stores. Most of them are equipped with technology that allows them to collect data from their consumers and use it to make informed decisions.
Qivos team has a term for every crisis, such as the Coronavirus situation; "Technology can transform a great marketing idea to an ultimate customer experience". Here are simple and easy examples to follow for a personalized experience, executed by utilizing customer data.
All three examples are solutions that Qivos delivers successfully and can help you create loyalty between the brand and the consumers.
VIP treatment
A beauty retail store runs a campaign to a specific customers' segment and invites them to live a personalized experience, for example, make-up treatment. The customer receives the message, clicks on the link, and is transferred to a screen where she easily chooses, in three steps, the store, date and the available slot.

Private treatment
A fashion company runs a campaign on selected members/customers and invites them for a personal visit to the store to check the new collection before the official launch. The customer receives the message, clicks on the link, and is transferred to a user-friendly screen, where he easily selects a store, dates, and the available slots.
Clickinshop
A retail business enables its customers to make appointments according to the national guidelines. The customer receives the message, clicks on the link, and is transferred to a screen where he easily chooses a store,the dates, and the available slot fast and easy. Make sure to always send a confirmation personalized message at customers' preferred communication channel.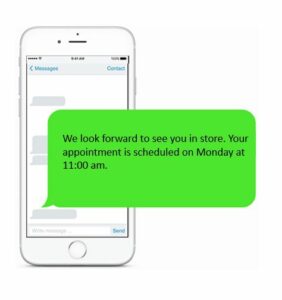 All the above examples lead to a seamless experience for the shoppers that meet their expectations for a smart, fast, and personalized experience at every interaction they make with a brand. Reaching today's well-informed customers is really challenging, but if done right, retailers can transform the typical give-and-get relationship and increase customer satisfaction and loyalty.
Reach us out today to discuss with our customer loyalty experts, whether you have a support question, or a business inquiry. Click here to contact us!